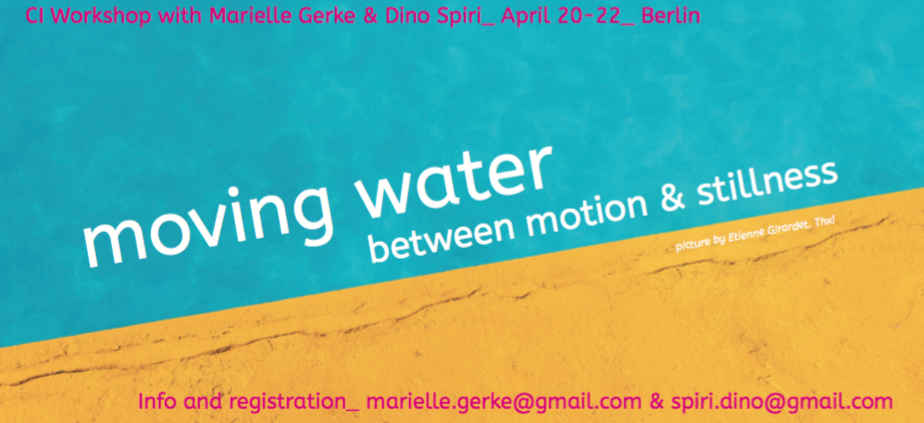 ***deutsche Ausschreibung weiter unten***
Moving Water
Between Motion & Stillness
CI Workshop with Marielle Gerke & Dino Spiri
April 20-22, Berlin
This workshop offers the possibility to combine two days of studio time with one day of working in water.
We will play with and explore various qualities and technical aspects of CI that enrich our dance. Pre- and postnatal develop- mental movement patterns teach us about our bodies' organisation and exemplary pathways allow us to look at concrete material to learn CI technique. The day in the water opens a different perception of movement, of ourselves and each other in contact – this adds possibilities to our understanding of the moving body.
Bodywork in water and in the studio serves as a preparation for focussed, juicy and playful dances.
Previous experiences in Water Dance or Contact Improvisation are helpful but no must.
Workshop languages will be German or English, as needed.
The day ticket for the pool costs 29,50 Euro per person and is not included in the WS fee! Please bring your own bathing suit, towel, goggles and nose clip. For the studio bring clothes to comfortably move in and kneepads.
DEUTSCH
Dieser Workshop bietet die Möglichkeit, Bewegungsexplorationen im Tanzstudio mit einem Tag Wasserarbeit zu kombinieren.
Dabei werden wir "Gewicht" als Sinneseindruck erkunden und damit spielen sowie mit Qualitäten des Einfaltens und Ausdehnens, mit Manipulation und Kommunikation, Struktur und Fluss. Durch Bewegung und Berührung werden wir unseren eigenen Körper und andere Körper erfahren sowie unsere jeweilige Umgebung. Durch das Erforschen von Elementen aus der frühkindlichen Bewegungsentwicklung und beispielhaften Bewegungsabfolgen erhalten wir wertvolle Informationen über die Organisation unseres Körpers – Qualitäten und technische Fähigkeiten, die unseren Tanz bereichern. Der Tag im Wasser eröffnet uns neue Möglichkeiten der Wahrnehmung von Bewegung, der Eigen- und Fremdwahrnehmung und birgt das Potenzial, ein tiefergehendes Verständnis für die bewegten Körper zu erhalten. Körperarbeit im Studio und im Wasser dient uns als Vorbereitung für fokussierte, geschmeidige und verspielte Tänze. 
Vorerfahrungen im Bereich Wassertanz und/oder Contact Improvisation sind hilfreich, aber kein Muss.
Workshop-Sprachen sind Deutsch oder Englisch – abhängig von den Bedürfnissen der TN.
Das Tagesticket für das Schwimmbad kostet 29,50 Euro und ist NICHT in der Workshopgebühr enthalten. Bitte bringe Deine eigene Schwimmkleidung mit sowie Handtücher, Schwimmbrille und Nasenklammern. Für die Studiozeit bringe bequeme Tanzkleidung und Knieschoner mit.
Times & places
Friday, April 20 * 6-9pm @laborgras, Paul-Lincke-Ufer 44A, 10999 Berlin
Saturday, April 21 * 11am-5pm @Liquidrom, Möckernstraße 10, 10963 Berlin
Sunday, April 22 * 10.30am-4.30pm (incl. lunch break) @Studio2, Mime Centrum im Kunstquartier Bethanien, Mariannenplatz 2, 10997 Berlin

Prices
Support price 140 Euro
Fair price 120 Euro
Tight-budget-price 100 Euro
+
(Entrance fee pool – 29,50 Euro

Accommodation
We will be giving support to find affordable accommodation if needed

Info and registration
[email protected]
[email protected]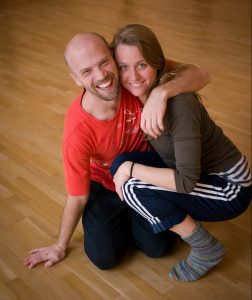 Marielle & Dino
know each other since many years and share a friendship and their passion for Contact Improvisation. Their similar understanding of teaching provides a strong base for finding a good portion of satisfaction and fun in practicing CI!
kennen sich seit vielen Jahren und verbindet eine Freundschaft sowie ihre Leidenschaft für die Contact Improvisation. Ihr ähnliches Verständnis für das Unterrichten der Form schafft eine solide Grundlage für freudvolle und erfüllende Tänze.

Marielle Gerke
is born in Berlin, living in Witzenhausen near Kassel since 2010. There she discovered her passion for dancing – especially for Contact Improvisation in 2012. Since then she is continuously fascinated by this unique and exciting dance form. She loves the playfulness that lays in it and the diversity of movement options that become available when moving together with shared weight. For her is remarkable how clear nonverbal communication can become if both dance partners allow their bodies to truly fall into each other while listening to the proposed directions of movement under the skin. In her practice as a dancer and teacher the exploration of developmental movement patterns, principles of leading and following over the soft tissues of the body and water work are very useful and exciting. She is interested in exploring anatomical structures in hands on work and while dancing.
Teachers that she feels inspired by are mainly Jörg Hassmann and Daniel Werner, but also Kira Kirsch, Frey Faust, Bernd Knappe, Christoph Schütz, Roland Nordeck and her colleague Katja-Bahini Mangold. She has been studying with Jörg Hassmann and Daniel Werner in their Basic Training Programme in Tanzfabrik in Berlin for three years – one as participant and two as assistant. Since 2012 she organises the weekly Contact Impro Jam in Witzenhausen together with Katja-Bahini Mangold. Marielle teaches Contact Improvisation since 2015 in regular evening classes, different workshop-formats and on various Contact Impro festivals in Germany and Austria. Since 2016 she is also teaching in the school for contemporary dance Sozo visions in motion in Kassel and is involved in a couple of different performance projects. She started to investigate the Axis Syllabus Movement and Body-Mind-Centering more closely which she would like to continue and deepen in the future.
erforscht Contact Improvisation als Tanzform seit 2012. Sie mag die Verspieltheit, die darin liegt, und die Vielfalt von Bewegungsmöglichkeiten, die sich ergeben, wenn beide TanzpartnerInnen Gewicht miteinander teilen. Marielle lebt und teilt ihre Leidenschaft für die Contact Improvisation als Lehrerin, Performerin und Organisatorin von vielfältigen Veranstaltungen rund um die Form. Sie fühlt sich beeinflusst und inspiriert durch ihre Begegnungen mit Body-Mind-Centering, Axis Syllabus und Bewegungs- und Berührungsexplorationen im Wasser.
mariellegerke.de

Dino Spiri
is a certified teacher of the Alexander Technique and since eight years deeply involved in practicing and teaching various disciplines of movement and touch. His work is strongly rooted in practices like Klein Technique, BMC, AT and Vipassana meditation and aims to create a bedding for meeting oneself and each other.
ist zertifizierter Lehrer der Alexander-Technik und seit acht Jahren intensiv dabei, verschiedene Bewegungs- und Berührungsansätze zu praktizieren und zu unterrichten. Seine Arbeit hat ihre Wurzeln in Ansätzen wie Klein Technik, Body-Mind-Centering, Alexander-Technik und Vipassana Meditation und zielt darauf ab, eine Grundlage zu schaffen, sich selbst und anderen authentisch zu begegnen.
https://www.dinospiri.com/wp-content/uploads/2018/01/FB.png
468
924
Dino Spiri
https://www.dinospiri.com/wp-content/uploads/2017/11/logo-5-300x75.png
Dino Spiri
2018-01-23 17:13:42
2018-01-23 17:34:53
April 2018 / Moving Water, CI Workshop with Marielle & Dino