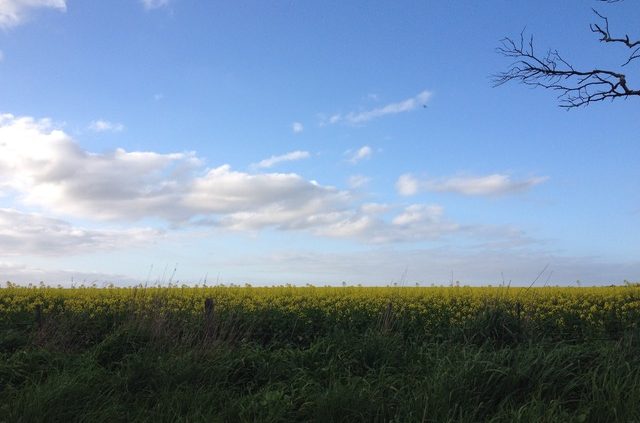 Sunday 24.6.2018
6:30-8:30 pm
Zentrum für Alexander-Technik, Auguststr. 65, Berlin-Mitte
€35
Bookings:
[email protected]
More info:
www.carstengolbeck.de
www.davidyoung.de
www.dinospiri.com
***Deutsche Version weiter unten***
Life can be complicated. Probably there is no escaping complexity altogether but we can work on our responses to it. Over a period of two hours, you will be guided through a series of simple exercises and experiences that reduce tension and increase awareness. You will learn practical, hands-on 'keep it simple' strategies and tools that you can apply immediately to your daily life. Through a combination of group activities and one-on-one Alexander Technique work, you are guaranteed to leave feeling more focused, energised and open.
This workshop is led by four highly skilled and passionate teachers of the Alexander Technique, an approach that keeps things simple while offering a myriad of other benefits and advantages that help you get through life. In addition each teacher brings very different specialisations to this unique collaboration: Carsten is a playwright and meditation teacher, David is a composer and artistic director, Dino teaches dance and works in production management for the dance and theatre scene and Martina is a pharmacist and also has a Masters in Public Health.
DEUTSCH
Leben kann sehr kompliziert sein. Das werden wir nicht ändern können, aber wir können unsere Reaktionen darauf ändern. In einem zweistündigen Workshop möchten wir dir Erfahrungen damit vermitteln, wie wir mit Hilfe einfacher Übungen Stress reduzieren und unser Bewusstsein für Körper und Geist erhöhen. Die Alexander-Technik bietet praktische, alltagstaugliche 'keep it simple'-Strategien, die wir dir in Gruppen- und Einzelarbeit vermitteln möchten. Wie die Welt danach sein wird, wissen wir nicht – aber du fühlst dich garantiert gelassener, durchlässiger und fokussierter.
Dieser Workshop wird von vier erfahrenen und passionierten Lehrer*innen der Alexander-Technik angeleitet – einer bekannten und anerkannten Methode, die durch ihre Schlichtheit und Direktheit überzeugt und wertvolle Unterstützung für das Abenteuer Leben bietet. Die verschiedenen Werdegänge der Lehrer*innen machen diesen Workshop besonders interessant: Carsten ist Autor und Meditationslehrer, David Komponist und künstlerischer Leiter, Dino unterrichtet Tanz und arbeitet als freischaffender Produktionsleiter in der Tanz- und Theaterszene, Martina ist Pharmazeutin und hat einen Master Abschluss im Gesundheitswesen.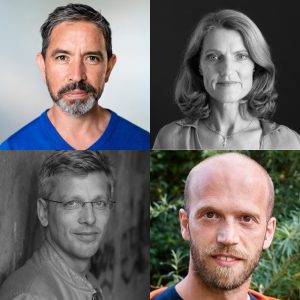 Martina Deeken
is an Alexander Technique teacher and works in own rooms in Steglitz-Zehlendorf. After many years with intensive back-pain and lots of experiences with different therapies, body-work and relaxation techniques she got to know Alexander Technique, and this changed her life basically. Because of her job as a pharmacist in Regulatory Affairs, she really knows about stress and pressure of time in work life.
ist Lehrerin für Alexander-Technik und arbeitet in Steglitz-Zehlendorf in eigenen Räumen. Nach vielen Jahren mit intensiven Rückenproblemen und vielen verschiedenen Therapien, Trainingsarten und Entspannungstechniken lernte sie die Alexander-Technik kennen, die ihr Leben grundlegend veränderte. Durch ihren Beruf als Apothekerin in der Arzneimittelzulassung ist ihr der Arbeitsalltag mit Stress und Termindruck sehr vertraut.
Carsten Golbeck
works since almost 30 years for the theatre in various roles. As singer, actor, host, dramaturg and mostly as an author. As his work requires using his voice he met the Alexander Technique – his most important discovery next to meditation. He is busy with different forms of meditation since 26 years and now combines them with the Alexander Technique in individual- as well as in groupwork.
arbeitet seit fast 30 Jahren auf, vor und für die Bühne. Als Sänger, Schauspieler, Moderator, Dramaturg und vor allem als Autor. Durch die lange Arbeit an und mit der Stimme kam er zur Alexander-Technik – die für ihn wichtigste Entdeckung neben der Meditation. Seit 26 Jahren beschäftigt er sich mit verschiedenen Formen der Meditation und verbindet diese in Einzel- und Gruppenarbeit mit der Alexander-Technik.
www.carstengolbeck.de
David Young
is an Alexander Technique teacher with a background in music, artistic direction, sport, social enterprise and mental health. Born in Australia, he now lives in Berlin and works with people to realise their full potential. David practises at the Zentrum-für-Alexander-Technik and his private studio in a range of modes including one-on-one coaching, masterclasses and workshops.
ist Lehrer der Alexander-Technik mit einem Hintergrund in Musik, künstlerischer Leitung, Sport, sozialem Unternehmen und psychischer Gesundheit. Geboren in Australien, lebt er nun in Berlin und unterstützt Menschen auf dem Weg zur Entfaltung ihres vollen Potentials. David unterrichtet im Zentrum-für-Alexander-Technik und in seiner privaten Praxis.
www.davidyoung.de
Dino Spiri
studied Jazz & Pop with a focus on Drumming, in the Netherlands. After his studies he moved to Berlin to complete his training as a teacher of The Alexander Technique and he has taught as a certified teacher in this wonderful work since 2013. In addition, he has worked in production management for the the freelance dance and theatre scene since 2012, including engagements with Sasha Waltz & Guests, Martin Nachbar, Shakespeare Company Berlin, and Tanzkongress Hannover.
studierte Jazz & Pop mit dem Hauptinstrument Schlagzeug in den Niederlanden. Sein Studium ergänzte er mit einer Ausbildung zum Lehrer der Alexander-Technik in Berlin. Seit 2013 unterrichtet er als zertifizierter Lehrer. In der freien Tanz- und Theaterszene arbeitet Dino seit 2012 im Produktionsmanagement, u.a. für Sasha Waltz & Guests, Martin Nachbar, Shakespeare Company Berlin, Tanzkongress Hannover.
www.dinospiri.com
https://www.dinospiri.com/wp-content/uploads/2018/06/yellowfield.jpeg
480
640
Dino Spiri
https://www.dinospiri.com/wp-content/uploads/2017/11/logo-5-300x75.png
Dino Spiri
2018-05-04 08:20:17
2018-06-02 08:25:56
June 2018 / Keep it Simple – AT Workshop